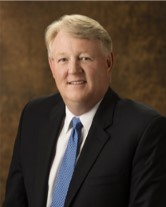 Garfield County School District is excited to announce the hiring of Bruce Williams as the district's new Business Administrator (BA).  Bruce comes to us with plenty of public education experience.  Almost his entire career has been spent in education finance serving in three districts as the BA and also at the Utah State Board of Education as an Associate Superintendent of Business and Operations.  Bruce also has several years in the banking industry serving as an investment banker and also in public finance.  Bruce has been an adjunct professor at Utah State University where he has taught school finance.
Bruce has a Bachelor Degree from Weber State University in Business Administration and a Master of Business Administration degree from the University of Utah.  Mr. Williams currently lives in Kaysville; however, he and his wife, Jamie, plan to relocate to Panguitch while he works as our new school BA in Garfield County. We would like to welcome Bruce and Jamie and at the same time offer Patty Murphy congratulations on her retirement and also thank her for her service to the patrons at Garfield County School District.
Welcome to Garfield County Bruce!
Tracy Davis, Superintendent – Garfield County School District