In the late 1930's President Roosevelt signed in the New Deal. The National Youth Association was created to provide employment for young people following the Great Depression. Many of the laborers that were building the current office were sent off to the Armed Forces to defend our Freedoms in WWII. After the war ended, the building was completed and donated to the local church. It later became known as the Panguitch LDS hospital until Garfield Memorial Hospital was opened on July 4th of 1976. Since then, it has served as the second home to superintendents, business administrators, and support staff of all varieties.
While science and security cameras can't prove it, many staff members have reported paranormal activity while working late at night. In 2014 ghost hunters visited the office and confirmed the presence of orbs. Whether you believe in ghosts or not many staff members have their favorite jump scare stories to tell.
John is a well traveled educator. He has been both a teacher and administrator for schools in Parowan and Cedar. With a love for all of Garfield County and its communities he is excited to lead the district and continue improving upon and working with the fantastic educational staff that he oversees.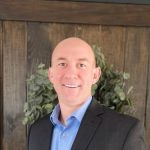 Lane Mecham
Business Administrator
Lane is a Certified Public Accountant (CPA) and comes to GCSD with state and municipal accounting experience.  His most recent role was the Finance Director for Ivins City, Utah.  He looks forward to helping the District maintain a strong financial position as it grows.