On April 7, 2016 students from Garfield County School District will be competing in the 38th Annual Sterling Scholar Awards program sponsored by Desert News, KSL Broadcasting Group, Southern Utah University, Dixie State University, and Southwest Educational Development Center.  The purpose of the Sterling Scholar program is to proudly recognize and encourage the pursuit of excellence in scholarship, leadership, and citizenship of high school seniors in Beaver, Garfield, Iron, Kane, and Washington School Districts.  Sterling Scholar students dedicate many hours to organize an extensive portfolio relating to each content area, followed by a series of interview questions in front of judges to facilitate in the selection of the winners in each category.  Sterling Scholars are eligible for multiple scholarships across the state, for more information on the available scholarships please access the following link: https://www.sedck12.org/scholarships
I would like to congratulate the sterling scholars from GCSD and wish them the best of luck in the competition.  The sterling scholars from GCSD are as follows:
Bryce Valley High School
Kallie Bybee (Science), Max Hyatt (Social Science), Zennon Hutchings (Mathematics), Danica Rose (English), Jailine Vasquez (Business & Marketing), Elizabeth Ahlstrom (Speech and Drama), and Landyn Brinkerhoff (Agricultural Science).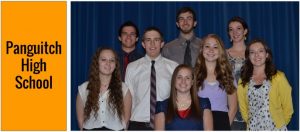 Panguitch High School
Garrett Finch (General Scholarship), Dason Houston (Speech and Drama), Mckayla Blackburn (Skilled & Technical Science Education), Amber Sidwell (Science), Jantzen Orton (Business and Marketing), Taylor Bennett (Family & Consumer Science), Makayla Dalton (Social Science), and Brianne Bremner (English).