10-15-2015 Title I Recognition
On October 1st, 2015 the Utah State Office of Education issued a letter to Garfield County School District recognizing Escalante Elementary School.  The following is a copy of the letter from the USOE.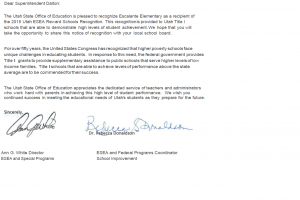 I would like to congratulate Escalante Elementary and all of the schools in the district for all of their hard work and efforts in improving the quality of education for our students.  Bryce Valley Elementary, and Panguitch Elementary are also Title I schools who exceeded the state average in mathematics.
Ben Dalton
Superintendent
Garfield County School District