School Letter Grades 2015
On Tuesday, September 15, 2015 the Utah State Office of Education released the School Letter Grades for the 2014-2015 school year.
According to the Desert News http://www.deseretnews.com/article/865636817/New-school-grades-mirror-growth-in-SAGE-assessment.html and USOE datahttps://datagateway.schools.utah.gov/Accountability/SchoolGrades/2015:
Out of 738 elementary schools this year, 109 earned an A, 358 got a B, 213 got a C, 45 got a D and 13 got an F. About 64 percent of schools got either an A or a B, compared to 59 percent last year, and 7 percent got a D or an F, compared to 9 percent last year, according to data released Tuesday by USOE.
Of Utah's 133 high schools, 14 received an A, 61 earned a B, 42 got a C, six got a D and 10 got an F. About 59 percent of high schools got either an A or a B, up from 50 percent last year, and 9 percent got a D or an F, down from almost 20 percent last year."
Garfield County School District continues to see increases in the majority of our schools. As a comparison, I have include the school letter grades for 2013-14 and 2014-2015 (the years when the SAGE assessment has been administered).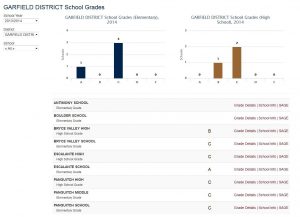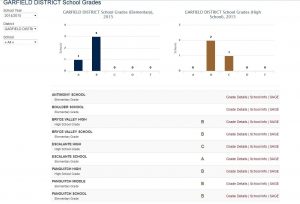 Also, Panguitch High School has been recognized by USOE on the High School Federal Accountability Report (SFAR) in 2014-2015 with largest increase in total points in Growth and Achievement.
Thank you teachers, administrators and support staff for all of your hard work and efforts to improve your schools and our student's educational experience.  Also, a special thanks to the parents and community members who help the students in the district with their homework and school responsibilities. Your hard work and dedication to your schools are greatly appreciated.  GCSD is progressing in the right direction thanks to committed teachers, administrators, support staff, parents and community members who devote their time and efforts in behalf of our students.
Ben Dalton
Superintendent